Contrary to most of the things you may be imagining right now as you panic in your seat, it is possible to have children and still get a tidy house. And this isn't one of those things that has a catch or even a loophole. You won't even need to be the one who has to pick up their toys. You just need a few strategic storage idea solutions that can make it easier to pick up these toys and keep them organized all the time whenever playtime is over. 
Using Old Bins or Containers With Lids
Your average container bin turned into a toy storage space is altogether fun, understated, and practical. This is a perfect addition to any children's room or even their playroom. This not only repurposes these bins but also gives you a bit more convenience as you no longer need to purchase an actual set of containers for toys. If you already have container bins, you can already place them in the rooms and organize the toys.
Reusing Old Dressers as Toy Storage Units
Much like a lot of the items on this list, having a repurposed dresser is never a bad idea. Doing so will give you choices to have three levels of drawers of storage space for your kid's toys, clothing, and other types of essentials without having to buy more furniture.
Repurposing Those Old Crates 
A set of stacked-up crates or boxes of these kinds is another great idea. Take those old crates, clean them up and sand them smooth. Slap on some paint and stack them all up. Lay them on their side so they can also double as open cubbies. Speaking of paint, since this is for the kids, make sure you use paint that isn't too toxic, and don't be afraid to go wild with the color. Their purpose is to store toys, but also, they should be colorful enough so they could match the fun energy and vibe of the kid's room or their playroom.
Utilizing Some Old Coat Hooks
Toys aren't the only things children may have. There can be superhero costumes and masks and all those colorful tiny and cute capes too. Using a coat rack mounted on the wall to hang any sort of dress-up costumes or hats and made-up helmets is a very good addition to the whole playroom section of the house. This will free up a lot more space in toy bins and drawers.
Using the Toy Itself as Storage
Sometimes you gotta work with what you already have. There can be times that you may already have toy sets that are large enough to store the other smaller toys. Large dollhouses can also serve as the storage itself for smaller toys. Kind of like on The Haunting of Bly Manor. On the other hand, if you have access to people with the right set of skills, or if you can build one yourself, you can custom build a shelf space shaped like a dollhouse. If you have a boy, you can build a shelf unit shaped like the Hall of Armor from Ironman. The possibilities are endless as a matter of fact.
Enjoying Benches With Built-in Storage
If you happen to have the chance to build something from the ground up, one cool and efficient idea to try is to have an integrated storage space built under the benches inside the playroom or play area. Not only do these things help in storing all those blocks of legos that could potentially hurt your feet one day, but they also go out of the way and provide more floor space for playing since they would usually be slid under the benches for storage. These are drawer types of storage that could stow away small bags, toys even their cute and tiny shoes. One day when the kids eventually grow, these would all still be very useful for other objects that need to be tucked out of the way.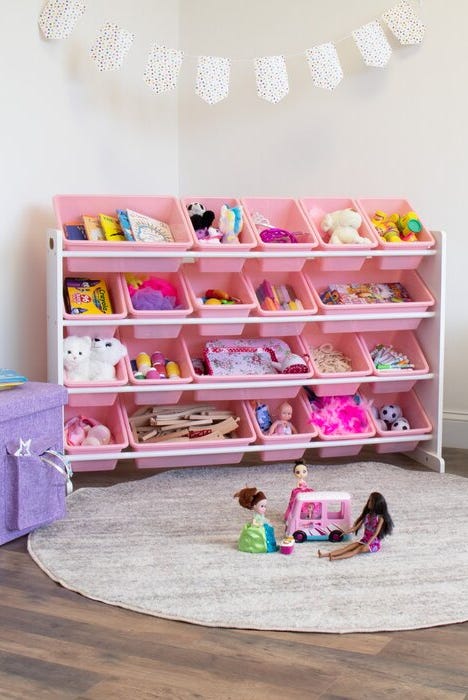 Sticking to a Good Old Fashioned Cabinet
If all things fail, you can never go wrong with a nice spacious cabinet. The strategy is mostly you taking advantage of the extra closet space in their room while your kids are still way too young not to care about clothes. To further maximize the use of the cabinet, you can either place it in detachable slabs of wood to act as shelves or put it in a small bookcase inside. With this, you will be able to use the cabinet to keep their toys out of sight. After that, you can also take it up a notch and beautify the closet with pretty and colorful wallpaper, or again, use paint that can give it a bit of color.
Know More: thiruttumovies 
Be Creative!
Sometimes things don't need a lot of effort to do. Toy storage doesn't have to be complicated. You only have to look right in front of you to think of cool and even fun ways to store toys for your child. We hope you enjoyed this post and be sure to check out Storables.com for more home and storage ideas!